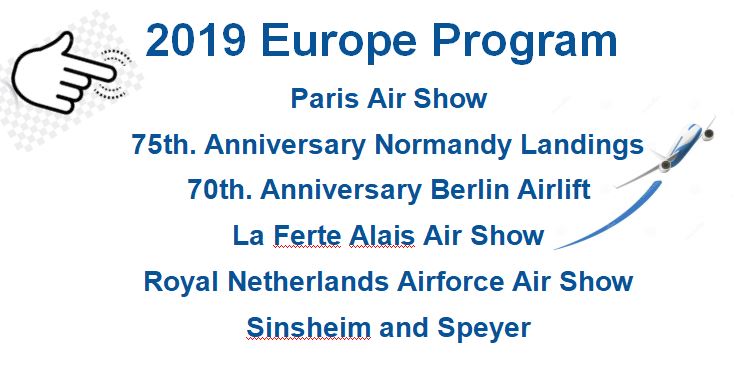 Travel from Australian Capitals by Singapore Airlines to Paris where we transfer to Rouen a medieval city on the River Sien, during our three night stay we will visit Bayeux British War Cemetery, Les Braves Monument & Omaha Beach Memorial Museum, Arromanches & Mulberry Harbour, (Gold Beach), Arromanches 360 Circular Cinema, Daks over Normandy marking the 75th. Commemoration of the D-Day landings by a mass parachute drop.
From Rouen to Versailles where we attend the LaFerte Alais airshow, you will see airplanes from the biplane era to modern jets with flying warbirds from all over Europe. After visiting the Musee Air & Espace Le Bourget Airport - 'The primary aviation museum in the world, for its age and the wealth of its original collections' a leisurely drive through farmland and villages next stop Brussels and the Belgium Air Museum.
On to Holland and Germany visiting Luchtmachtdagen 2019 - the Royal Netherlands Air Force Day and joining Germany's fastest train the Intercity-Express (ice) is a system of high-speed trains predominantly running in Austria, Denmark, France, Switzerland, and Germany and surrounding countries. It is the highest service category of rail offered in Europe and is the flagship train of the German state railway Deutsche Bahn.
Four nights in Berlin to celebrate the anniversary of the 1948/1949 Berlin Airlift, we will visit Tempelhof Airport, the Military History Museum, Schönhagen Airport to view the Berlin Airlift DAK's on the ground, followed by a stop at the Alliierten Museum to see American life in occupied Germany.
Back on the train (ICE) Visiting Heidelberg and the Technik Museum Sinsheim and Museum Speyer. A Russian TU 44 on a pole alongside a British Concorde is a unique introduction to this world favourite aviation site.
Two days later we arrive Paris for the Paris air show. The International Paris Air Show is an international aviation and aerospace exhibition, which is organized every two years by the SIAE, a subsidiary of GIFAS, the French Aerospace Industries Association. It the largest air shows in the world. Over the years this show has become the most important international platforms in the industry About 150 aircrafts are presented. Many of them show their skills during the daily flying demonstrations in the afternoon which gives exhibitors the opportunity to demonstrate their technical expertise to the public.